How to make money using ExchangeRates.Pro
Can't wait to learn how to make money on Bitcoins and Cryptocurrencies with ease and without hard work and significant investments? Let us @ ExchangeRates.Pro assist you with this!
There are many ways to earn money on Bitcoin and Cryptocurrencies, but most of those require special skills and experience and/or significant capital. The great news is that there are a couple of ways to make money on crypto without any of these: Arbitrage Trading (considering you possess the right tool) and P2P Trading (running your own exchange business). Let us introduce you to both the opportunities and explain how to use ExchangeRates.Pro to maximize your profits from these!
Arbitrage Trading.
Arbitrage Trading is making money from the rate difference across various exchanges: to keep it simple, you can benefit from buying Bitcoin for (say) $7777 at one Exchange and selling it and getting (for example) $7877 at another platform. As a result, you have an extra $100 in your pocket. Sounds easy? Well, it really is, if you are using the right tool and ExchangeRates.Pro is definitely the one! All you need to do to explore these opportunities is to choose a magic option Make Money! from the app menu: if you ever did exchanges before it's nothing really new, just this time you earn money instead of spending it on exchange fees! Although if you want to know everything in detail, please be our guest and read further.
Control Panel

As usual, you may choose any country you live (or have bank accounts!) in and any currency available there. Please note that it makes sense to check a few currency options: even if there are opportunities to earn using your local currency, sometimes you may earn more using USD or other fiat currency available. Whatever fiat or cryptocurrency you chose, we'll show the offers with this currency as "from currency" of the first exchange and the "to currency" of the last one. Say, if you've chosen BTC, we'll show the opportunities like BTC -> USD -> BTC. The best thing is that you'll surely get more BTC than you've spent on the first exchange!
By default we show you only the local offers: these are the ones you won't normally need to pay extra fees for sending the funds to dealer/exchange so you get all the money you are counting on. Although sometimes it makes sense to check all the offers available, for example, if you are able to send SWIFT and/or SEPA transfers cheap, international offers may become very profitable! Feel free to check out all the local + international ones by disabling "Only local offers" switch. If you wish to, you may also enable and disable the Cash Trading and Gift Cards (although those can bring a nice income!) using the switches above the Offers table. Both these options are enabled by default.
Offers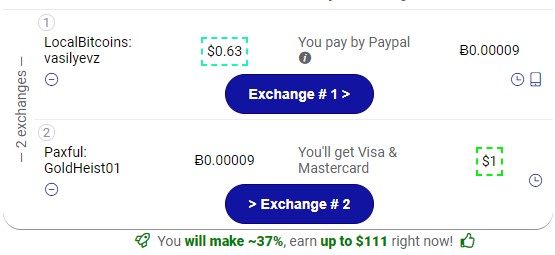 Actually, it's all mostly the same as it is in normal mode, especially if you've tried the Double Exchanges option before! We'll show you how much you have to pay and how much you'll get, how to pay or get paid (what Payment System or Bank will be used for fiat payment, if any), what are the max. & min. amounts, etc. For your convenience, we mark the first "from" amount and the last "to" with green so you'll see that (say) from $0.88 you make $1.00.
We'll also summarize the outcome (in profit) of the whole operation, for example: "You will make ~12%, earn up to $555 now!". The latter amount is calculated based on a max. amount possible for the whole operation: say, if there are two exchanges and the first one allows up to $10,000 but the second one limits the payment to $4,625 you can earn no more than $555 considering the 12% profit margin.
Tips & Hints
As you can see, there is nothing really hard to start earning money on crypto with the help of ExchangeRates.Pro! Let us give you a few bits of advice on how to maximize your profit and minimize the risks:
If you have bank accounts in several countries, it's worth checking all of those. For example, if your country has EUR as a national currency, that doesn't mean that all the EUR offers are available for your country. So if you (say) live in Italy and besides the local one have another bank account in the Netherlands (for example), it's worth checking both IT & NL!
Sometimes there are super-easy moneymaking opportunities like "pay USD with a card, get BTC, sell it and get paid to any local bank" so the USD funds are returned back to your card and you can use it for another deal right away. Although the most profitable ones are usually like "pay USD with a card, get BTC, sell it and get Paypal" (just as an example). The question is how to get the funds back to your bank account in such a case? Well, if Paypal (in our example) allows withdrawals to a bank account in your country, you are the lucky one. But what if it doesn't? There are various ways, depending on what Payment System or card, etc. you get: you may use many PSs to pay for your personal or business expenses (that you normally pay by card, cash or bank transfer); in case of Gift Cards you may resell it, etc. Use your imagination and google the use cases to get the maximum of the trading!
Be careful accepting payments by Visa/MasterCard and Paypal from sellers without a solid reputation at P2P Platforms; almost the same applies to the Gift Cards. Although it's possible to get nice gains using these payment methods, please remember that sometimes such payments can be reversed (unlike the cryptocurrency) so there are risks involved. From the other hand, if the dealer does business for months or even years with zero complains, it should be safe.
We hope this guide will help you to start earning BTC and fiat currencies right now. We plan a number of updates with very interesting features coming so don't forget to follow our social network accounts. Good luck and nice profits in your trading!
P2P Trading.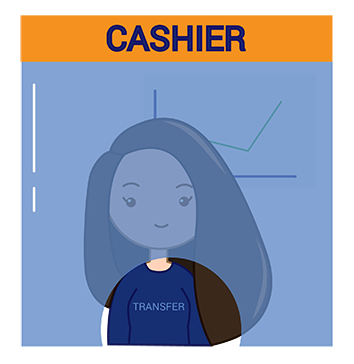 There are multiple ways to earn money on the P2P exchange market, but the most interesting one is to become a dealer ("pro" trader, merchant, etc.). Dealers make money buying and selling BTC and cryptocurrencies to other users, it can become a nice business opportunity! It's almost like operating your own exchange and the best thing is that the marketplace already has the customers for you! Sounds good, right?
Unfortunately, there is a catch. There are other dealers on the market; some of them are professionals and many use trading bots, etc. If you already tried publishing your ads on exchanges like LocalBitcoins, Paxful, Binance P2P, etc. you already know how tiring it is to compete against those bots! Want to stay on the top of the list? Get ready to constantly refresh various pages at various exchanges and change and change your ads price settings... Not on top? Most customers won't see your ad at all. As it turns out, being a (successful) dealer on the P2P market is not as easy as it seems! And there are other stressful things: answering all the same questions over and over again, copying/pasting the payment data, etc, etc.
The good news is that there's an easy solution for all the problems a dealer can encounter! Meet P2PTrader.Pro: the only "all-in-one" software taking care of all the dealer's needs from quick ads creation to payouts and accounting :
your ads will be on top of the list; let the software do the job while you can concentrate on other things
it helps with the messaging: there are editable auto-messages in various languages, quick replies, bank and payment systems account(s) management, etc
processing the trades was never so easy; you'll see all the incoming trades and messages at a single user-friendly interface. Respond to the texts and execute all the trade-related actions (release the escrow, mark trade as paid, etc.) in a couple of clicks!
And there are many other features... P2PTrader.Pro was designed by dealers on P2P markets for dealers just like you And the best part is that you can start enjoying all this without paying a single satoshi right away!